When it's time for all-American food and fun, it's time for Moby's. 24 hours a day, seven days a week, our classic beach-themed diner serves up great food that harkens back to a simpler time and place. Let your appetite take a nostalgic stroll through our massive menu of classic burgers, breakfasts, sandwiches, salads, desserts and much, much more. Blue plate specials and frosty shakes, too.  Always open, Moby's is the place to bring your appetite for the classics!
Stop by the all new Moby's, now open! 
Hours & Location
Monday          Open 24 hours
Tuesday         Open 24 hours
Wednesday    Open 24 hours
Thursday        Open 24 hours
Friday             Open 24 hours
Saturday        Open 24 hours
Sunday          Open 24 hours
Moby's is located at the north entrance of the casino.
Chefs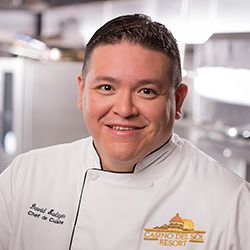 Chef David Salazar - Moby's
A Pascua Yaqui Tribal member, Chef Salazar has 15 years of experience in the kitchen. He worked his way up from a dishwasher to running his own kitchen as Chef de Cuisine. He credits his development to the Food and Beverage Tribal Development Program at Casino Del Sol. Chef Salazar is also a proud member of the American Culinary Federation.
Chef Salazar says, "I have worked under many great chefs that have groomed me for my current position. My vision is to not be afraid to make a mistake; the mistake is not attempting."