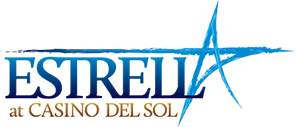 Estrella at Casino Del Sol is a fantastic hotel located within the sprawling grounds of Casino Del Sol. With 151 modernly appointed rooms, Estrella offers a comfortable and luxurious stay for its guests. The rooms are designed to provide a relaxing ambiance and come with stunning views of both sunrise and sunset, allowing guests to witness the breathtaking beauty of the desert landscape.
One of the highlights of Estrella is its outdoor pool patio, a perfect oasis for relaxation and recreation. Guests can unwind by the sparkling pool, bask in the warm Arizona sun, and take a refreshing dip to beat the heat. For those seeking a touch of indulgence, the poolside bar offers a variety of refreshing beverages and snacks to enjoy while lounging by the water. The highlight of the pool area is the thrilling 100-foot pool slide, providing hours of excitement and entertainment for both children and adults.
Fitness enthusiasts can maintain their workout routines at Estrella's well-equipped fitness center. With state-of-the-art equipment and a range of exercise options, guests can stay active and energized throughout their stay. The fitness center offers a comfortable and inviting environment to ensure a productive workout experience.
Estrella also caters to the entertainment needs of its guests with a video arcade, the arcade provides a fun-filled space for guests of all ages to enjoy.
Estrella Overview: 
151-room hotel with stunning views of the property and the surrounding Sonoran Desert, including suites and poolside rooms.
Sits on 2.2 acres of land adjacent to Casino Del Sol
93,200 square feet on six floors 
4 suites
Sunrise and Sunset views
 
Amenities at Estrella: 
Meeting rooms

The Hotel offers 2 meeting rooms catering between 25-50 people.
1170 square feet of Meeting rooms
Tachira room max occupancy  53
Tukka room max occupancy 25

Arcade

89 Square feet Arcade with various games
Open daily from 7am-9pm

Fitness center

24 hour fitness center with 6 Cardio Machines and a free weights

Estrella Pool
Pool hours: open daily 6am - 11pm, pool slide 10am-6pm.