The Beatles Tribute
Thursday, January 24 at 8:00 PM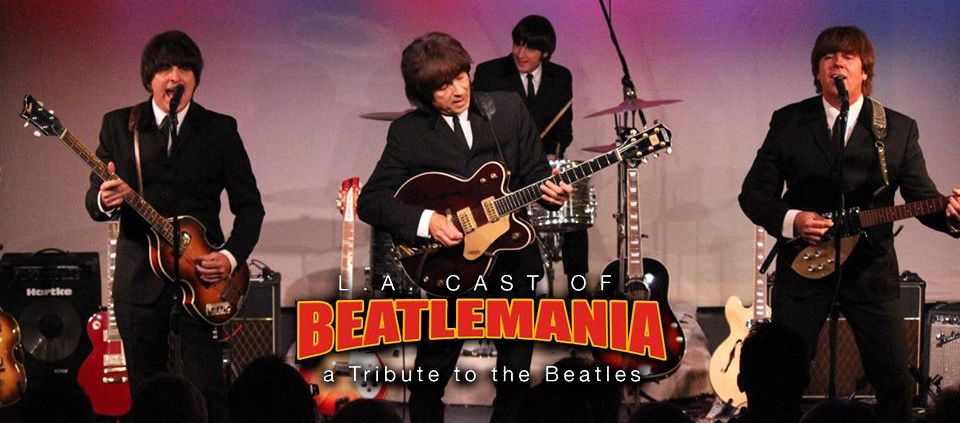 Free Event, 21+. The LA cast of Beatlemania in concert features some of the same of the Broadway and motion picture stars that made Beatlemania a huge international success. Just recently the show has added performers which have played with groups, such as Rain, 1964, and The Fab Four. These talented performers were selected from thousands of actor / musicians  to star on Broadway in Beatlemania. After a successful three year tour, the boys set box office records in Tokyo and London. 
This production is a faithful recreation of the excitement, sounds, and the sights of a live Beatles concert. Meticulous attention has been paid to detail, from the exact hair styles to duplicate musical gear.

The Beatles are the currently the hottest act in the world in term of CD sales. Capital Records has spent over Five Million dollars to promote the Beatles CD's. Now, with the 50th year Anniversary upon us, more than ever, the time is right for this production. The baby boomer generation that grew up with iconic Beatles are still excited to relive that feeling of great joy again.  Now due to the success of these contemporary remakes of 60's Beatles hits, we find an entirely new generation of youth wanting to experience the magic of the Beatles music for the first time. 
LA Cast of Beatlemania in concert promises to treat the audience to a nostalgic musical experience they will never forget!