Bell Biv Devoe and ATCK with DJ Lux, Jeff Timmons and special guests Otown & LFO
Friday, October 22 at 8:00 PM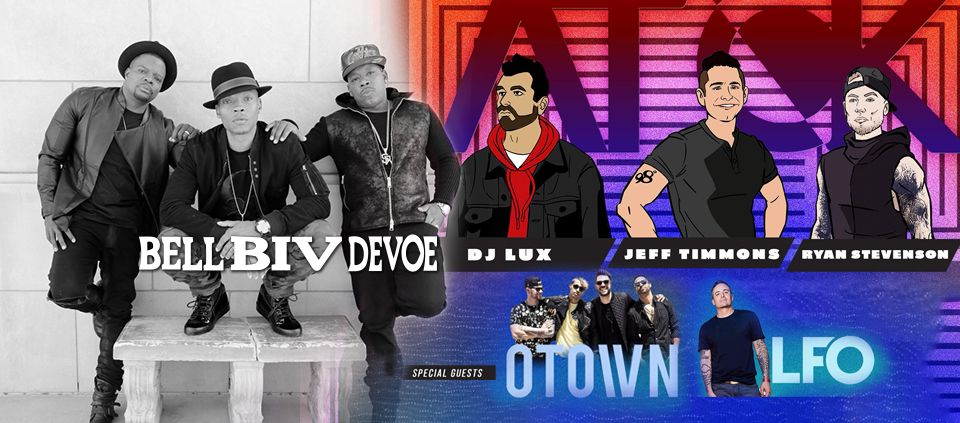 Bell Biv Devoe and ATCK with DJ Lux, Jeff Timmons and special guests Otown & LFO live at AVA Amphitheater. 
Tickets on-sale now
---

About Bell Biv Devoe
Multi-platinum group Bell Biv DeVoe -- Ricky Bell, Mike Bivins and Ron DeVoe -- are back with "Run," the Erick Sermon-produced single that captures the BBD sound with hip hop beats, R&B harmonies and new jack swing. The group also announces the January 27, 2017 release of its anticipated new album, "Three Stripes ≡." 
(BBD) have been bridging the gap between R&B and Hip-Hop music with a pop-feel-appeal-to-it for more than 25 years. A direct byproduct of the hugely successful 1980's vocal quintet "New Edition", "BBD" merged the irresistible sounds of Hip-Hop beats, New Jack Swing and R&B harmonies
The group's wildly successful debut album Poison sold 4 million copies and featured 4 classic hits. In addition to the the Platinum selling title track, the album featured "Do Me," "When Will I See You Smile Again," and "BBD...I Thought It Was Me."  BBD's follow up album, "WBBD-Bootcity" (A Remix LP)" sold over 700,000 units, while the 1993 album Hootie Mack was gold-certified.  
Presently, the group is still going strong! BBD's many accolades include numerous Grammy nominations, three American Music Awards, two Soul Train Awards, countless "Keys to The City," as well as an abundance of esteemed salutations for their many humanitarian efforts. Not only do they continue to tours regularly as BBD, [as members of New Edition] they have been honored with the Lifetime Achievement Awards from both Soul Train and BET. Not to mention, most recently, coproducing the BET bio-pic; The New Edition Story. The 3 part miniseries has been seen by over 29 million viewers domestically and abroad. Ricky, Mike and Ron are stronger today than ever before. Since the early days with New Edition, BBD has sold over 20 million albums worldwide and has won the hearts of millions of fans globally.
BBD's extraordinary accomplishments have set them apart from their peers and have cemented them as pioneering icons in their own right.