Chris Young
Sunday, July 7 at 8:00 PM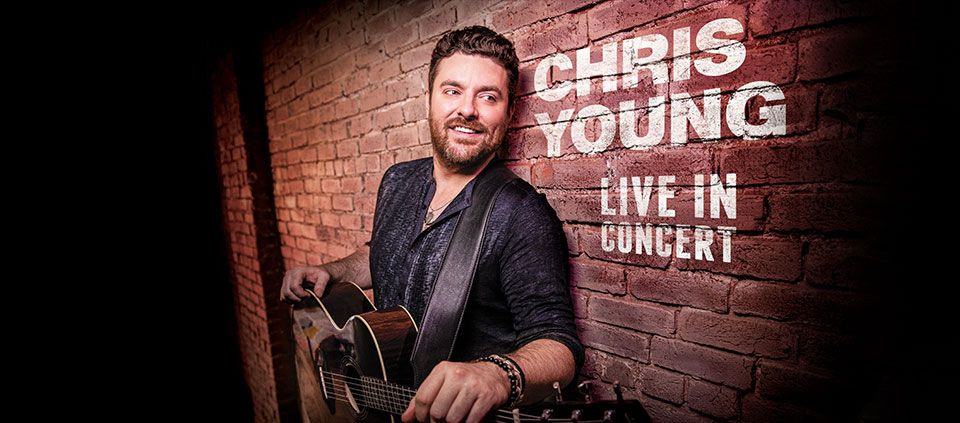 Chris Young live in concert at AVA Amphitheater.
Tickets on-sale 5/11 at 10am. 
Chris Young has accomplished more by 29 than some artists do in a lifetime. Already a Grammy-nominated recording artist, he's also a dynamic live performer consistently in demand, an international ambassador for his genre, a talented songwriter with six Number Ones to his name – by the way, he wrote four of them – and a handsome charmer to boot. Now, with the release of his fourth album, A.M., the man known for his classic baritone and melt-your-heart ballads knows how to have a good time, too. 
Still, when all is said and done, it only takes two words to sum up the career of Chris Young: Definitely country.
"I've always loved country music, and I really liked singing it as a kid," Young remembers. "So I was like, 'That's what I want to do.' I just kind of always knew." His first record purchase was Keith Whitley's L.A. to Miami, followed by the likes of Randy Travis, Tracy Lawrence and Brooks & Dunn. He sang so much around the house that he jokes his parents "blocked him out." But as puberty approached, the young tenor found himself facing adversity for the first time. "I was singing all of Vince Gill's stuff, and then my voice changed," Young laughs. "For about a year there, I thought, 'Oh my God, I'm ruined. It's the end of the world!' And then I realized I could sing Randy Travis songs. It worked out well."
That's something of an understatement for the Murfreesboro, TN native. Blessed with parents who encouraged his art, Young soon found his way into musical theater, jazz training, and six years of classical voice, which honed his emerging baritone into something truly special. In his early teens, Young convinced his mom to drive him into Nashville so he could sit in with bands and work with local songwriters; by 16, he'd formed a band with some older guys from Middle Tennessee State University, and they started playing George Strait and Garth Brooks covers in whatever clubs would have them. "I was entirely too young to be playing in bars," Young says. "I would have these big Xs in chunky black marker on my hands. I can't imagine we were that good, but really, that was me enjoying the heck out of what I did."
Everyone starts somewhere, and Young was starting to hone his craft. "People were telling me to learn to write songs," he says. "I'd written poems and stuff, but I didn't really know how. Which is funny, because you don't necessarily have to know how to write a song. You just sit down and create something. You make it up." He cut his first independent record after high school, using his own money to fund 500 or so CDs and take himself on a short tour of Florida, where he played mostly Borders bookstores. "One day, I played to three people," Young remembers. "Two were playing chess, and the other person was reading a book. When I said, 'Well, this will be my last song,' the lady reading the book clapped." 
If you're starting to think, Wow, this kid has a work ethic, you're getting the idea. Three semesters at Nashville's Belmont University and a short stint at MTSU taught him he wasn't cut out for college life. Instead, he picked up more than a diploma interning for a song publishing company owned by Laura Stroud, the wife of his future producer, James Stroud. Soon after, he scored an offer for a regular weekly gig as the frontman for the house band at Cowboys Dancehall in Arlington, one of the biggest country clubs in Texas. He dropped out of college, and began earning an equivalent of a Ph.D in the honky tonks of Texas, where he played more than 150 dates a year. He was 20. "We would open for anybody who came through – Lonestar, Dwight Yoakam. That's where I got real experience working with a band, lights, in-ear monitors, everything. I'm pretty lucky," he admits. "When I dropped out of college and moved to Texas, my parents didn't disown me." He soon returned to Tennessee and landed a recording contract with RCA Nashville. "I loved that label," Young says. "It was a heritage label that some of my favorite artists had been on. Keith Whitley. John Anderson. I think it's where I was supposed to be." 
Four albums and seven years later, Young looks back with some amazement. "It's wild to think that I've been around that long," he says. "People always told me, 'Hey, the record deal isn't the finish line.' It's the beginning of the work," he says. "I probably did four full radio tours starting out, just going around saying, 'Hey, still here… not going away…' I think RCA saw my work ethic. They kept me around." Ask Young today how it felt as the momentum began to turn, and he'll say, with typical humility, "After the first hit ["Gettin' You Home (The Little Black Dress Song)"], it was like, 'Okay, thank God I made enough money that I can buy a really small place to live.' After the second hit ["The Man I Want To Be"], it was a mixture of validation and just relief. 'Okay, I'm not a one hit wonder.'" 

Far from it: He would chart five consecutive Number One singles, co-writing four of them, and receiving plenty of Grammy, ACM, and CMA nominations along the way. With A.M., this self-professed "studio nerd" is ready to launch phase two of a plan he cooked up years ago with longtime producer James Stroud. "When we started making The Man I Want To Be, we talked it out," Young says. "He told me, 'Man, I had this vision that we would do this record and the next to really establish what your sound is. After that, you get to grow and stretch and play.' That's what we did with A.M. I could kind of do whatever I wanted." 
Young co-wrote six of the eleven tracks on the record, including the Top 5 hit "Aw Naw," which sets the tone immediately. An irreverent story about what Young calls "an accidental party – 'Hey, I just came to have one, and ended up staying all night,'" it's got an addictive four-on-the-floor vibe that's tailor made for live sing-alongs, and a tongue-in-cheek title that's both ridiculous and ridiculously inescapable. "It's just a slang way of saying, 'Oh, hell no,'" Young explains. "The guy that brought it up was [co-writer] Ashley Gorley. He goes, 'Aw naw!' And it was like, 'How do you spell that?'" 
Combined with the album's equally raucous title track, one might expect A.M. to be something of a concept album about things getting crazy after midnight. Instead, "It's things that you wouldn't necessarily expect," says Young, citing tracks like the albums second single, "Who I Am With You," which reached the top of the singles charts and sold more than 500,000 copies. The tender, traditional love song called "Goodbye" is further evidence that there's something deeper going on in the hours before the dawn. "'Lighters in the Air' is about meeting someone and falling in love at a concert, losing yourself in that night with the band playing in the background," he says. "And 'Goodbye' – when you look at the title, you might assume it's a breakup song. But it's about a relationship worth fighting for, showing up at somebody's house in the middle of the night and trying to work it out."
More than anything, A.M. is defiantly, definitely country. "Everybody's got a definition of what country music is," Young says. "Never before has it been so broad as to what can be on a country radio station, and what country music can be. It really just has to be what you feel as an artist." With its double guitars and occasional moments of arena-rock glory, A.M. sounds unlike any album Young has ever made – but that doesn't change what he calls the "core principle" of his music: "I'm never going to lose the acoustic guitar and the steel and the story in the song," he says. "When I open my mouth, I sound country. No one's going to confuse my records with being outside of the genre. Will I push some boundaries for some people? Hopefully. But I'm a country singer."
And for anyone who knows the real Chris Young, the party anthems on A.M. won't come as that much of a surprise. Though he's made his name on mature, sensitive, heartfelt hits like "Tomorrow," "You," and "Voices," he is, at heart, just like any other 29 –year-old guy. "If I wanted my friends to describe me any way possible," Young says, "it would be 'He's fun to hang out with.'" On his rare days off from the road or the studio, you'll find him fishing with his dad, geeking out on music from old-school Nashville to early '90s New Jack Swing, sitting in with a band at a hole-in-the-wall club, or simply closing down the bars on Lower Broadway with his buddies, ordering pizza and playing song wars on the jukebox until dawn. "I'm a normal dude," says Young. "I just happen to have a really freakin' cool job."
Recently named one of the summer's top tour openers by Entertainment Weekly, Young is on the road with Dierks Bentley on the "Riser Tour" – the latest in a string of high-profile supporting slots including tours with Jason Aldean, Miranda Lambert, Brad Paisley and George Strait. He's also plotting his next headlining run, with an eye on playing a stadium someday. And with the release of A.M. he says, "I'm happy. I think this is probably the happiest I've been in my life. I love the record that I made, I'm happy that it's different, that I'm stretching a little bit – and that people seem to be liking it. And I'm on a great tour. It's just a really, really good time right now. Maybe that's why I felt so compelled to put party songs on this record. 'Cause that's kind of how I feel."