Rebelution
Thursday, August 18 at 7:30 PM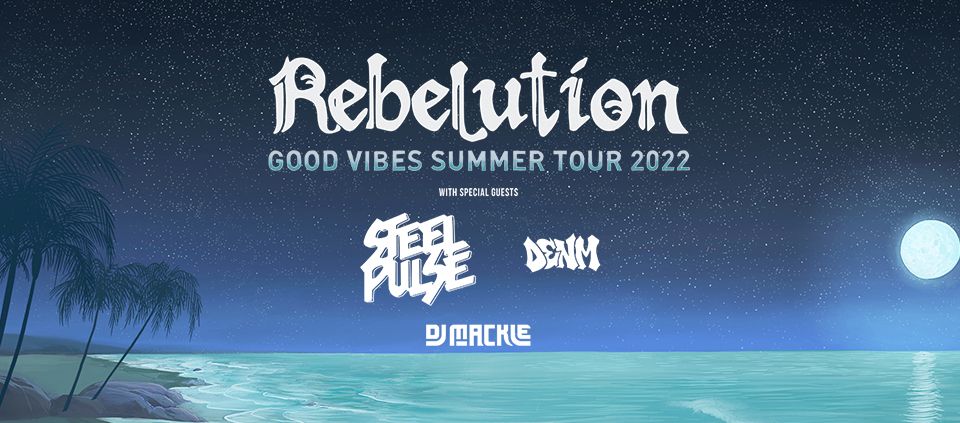 Rebelution Good Vibes Summer Tour 2022 live at AVA Amphitheater.
Tickets go on sale 3/22 at 10am. 
Rebelution:
Founded in Isla Vista, CA, Rebelution has followed their instincts since the release of their breakout 2007 debut, Courage To Grow. In 2009, the band topped the Billboard Reggae Chart for the first of what would be five consecutive #1 records; and in 2017, they garnered a GRAMMY nomination for Best Reggae Album. Rebelution's transcendent live performances, meanwhile, have earned the group sell-out headline shows everywhere from Red Rocks to The Greek Theatre, along with festival slots at Bonnaroo, Lollapalooza, ACL, Glastonbury, and more. Their latest album, In The Moment, is deliberate and wide-ranging, infusing the quartet's soulful, exhilarating brand of modern reggae with addictive pop hooks, alt-rock grit, and hip-hop grooves. The performances here are bold and self-assured, and the production is equally ambitious, drawing on swirling reverb and trippy delay to create an immersive sonic universe that's both futuristic and vintage.
Steel Pulse:
Bearing witness to the accelerating negativity of global affairs, UK reggae legends, Steel Pulse, emerge with musical vengeance to halt the disarray of humanity. The forthcoming album, Mass Manipulation, set for early 2019 release (Rootfire Cooperative / Wiseman Doctrine), reflects four decades of bettering mankind through music. The debut single "Stop You Coming And Come" features ancient melodies paired with catchy lyrics, transporting the mind to a period of time where secrets of an African dynasty are unmasked. As reggae revolutionaries, Steel Pulse is revered by the younger generation of artists and remains a powerhouse on stages around the globe. Through the example of Mass Manipulation, Steel Pulse demonstrates the endless possibilities that come from breaking down the walls of systemic greed, and nurturing the fellowship of mankind.
DENM:
With the release of his genre-hopping debut album, Slum Beach Denny, it's time to add DENM to the storied list of Southern California's musical ambassadors.  And like his most recent predecessors- Slightly Stoopid and Sublime- the twenty-something musician, songwriter, and producer drops plenty of hazy daze optimism into his melting pot of youth culture and life experience, emerging with a 21st century soundtrack from SoCal's sun-kissed sand, surf, and streets.  "It might look overnight to some people," says DENM, "but I've been working."
Working, first as a producer, most recently as a songwriter and musician, DENM has been a highly sought-after creative force in the indie music scene for over a decade.  He's evolved, thankfully and successfully, from years as an admittedly troubled teen bouncing from beach town to beach town.  And, as much as itinerant residencies in San Diego, Santa Barbara, and Isla Vista marked his personal narrative, they also fostered deeply authentic and eclectic sources of inspiration for the budding artist.
DENM taught himself guitar at 14, studying Jimmy Page on Led Zeppelin II, replicating every lick on his Alvarez acoustic- "the sickest present ever" from his mother.  He devoured YouTube videos on production techniques and, in 2017, found kindred spirits in the Rock Mafia duo of producers, Tim James and Antonina Armato.  He constantly grinded out new material, trusted constructive feedback from Rock Mafia, and chose positive vibes as motivation.  "Instead of trying to prove people wrong, I want to make sure that the people that believed in me are right."
Utilizing his "ghetto set-up," recording wherever the muse took him, DENM began crafting his own repertoire.  He built a personal studio- in a shipping container, no less- in Costa Mesa, Calif., where he assembled his raw tracks.  Then, in Los Angeles with Rock Mafia, he polished his prospective cuts into gems.
DENM's songs were notably genuine and reflective, not just autobiographically, but of the multicultural influences that surrounded him; revealing, if not celebrating, the seedier side of SoCal.  They also attracted a host of admiring peers; Dirty Heads' Jared Watson, for one, guested on the album's lead single, the reggae/punk cruiser "Califas."
A devotedly independent artist, DENM signed with Ineffable Records in 2020; a strategic partnership that enables Slum Beach Denny to reach his ever-widening audience.  For DENM, this first record is an immense source of pride; his coming-of-age moment.  "Everything was fully realized: the vision; the mission.  I wanted to make a soundtrack of life that everyone can experience: falling in love; good times; hard times; a little bit of everything."
And it's just the beginning.
"Expect more out of me.  I'm going to write about my life.  I'm going to write about make-believe.  Whatever.  We're just getting started.  Slum Beach Denny is album one," says DENM.  "I'm living every day.  There's inspiration everywhere.  I'm expecting to do this for the rest of my life."