Rob Schneider & David Spade
Thursday, February 15 at 8:00 PM
Casino Del Sol Event Center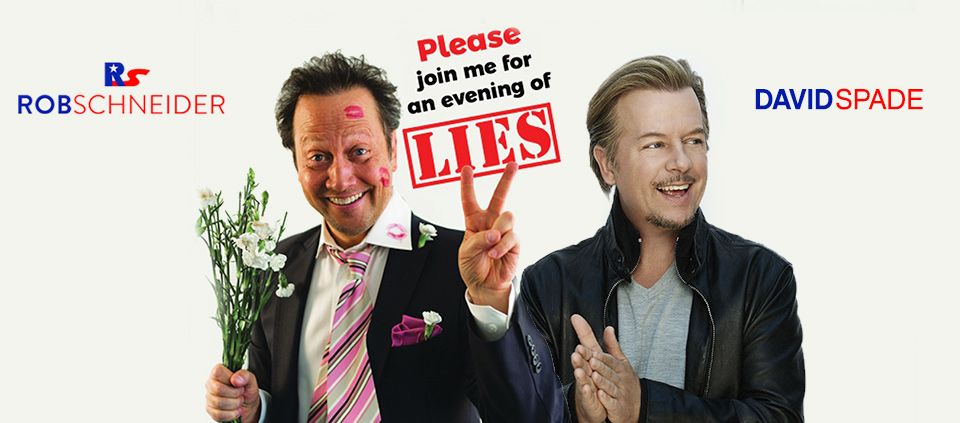 Rob Schneider & David Spade live at the Casino Del Sol Event Center on Thursday, February 15, 2018. 21+ Event. 
Tickets on sale now!
---

Rob Schneider:
Emmy-nominated actor Rob Schneider, well known for his trademark blend of character and comedic acting, has broadened his focus to include directing, producing and writing.
Schneider recently completed production on Happy Madison's "Grown Ups," a comedy about five old friends reuniting 30 years after their high school graduation. Dennis Dugan is directing.
Soon to be released, Schneider stars in Rob Hedden's romantic comedy "You May Not Kiss the Bride." He will also appear in Claire Kilner's college comedy "American Virgin."
Schneider recently completed principal photography on "The Chosen One," a drama he co-wrote. He stars as a man whose life is about to change after reaching the end of his rope. Schneider also co-produces with John Schneider through their production company From Out of Nowhere.
Earlier this year, Schneider made his directorial debut in "Big Stan." He also starred in the comedy as a con man sentenced to prison alongside David Carradine.
Schneider is well known for his longtime relationship with Adam Sandler and Sandler's production company, Happy Madison. Schneider has starred in several Happy Madison projects, including "Bedtime Stories," "You Don't Mess With The Zohan," "The Benchwarmers," "50 First Dates," "The Longest Yard," "Eight Crazy Nights," "Little Nicky" and "Mr. Deeds." Also for Happy Madison, Schneider co-wrote and starred in "Deuce Bigalow: European Gigolo," "Deuce Bigalow: Male Gigolo," "The Hot Chick" and "The Animal." Other film credits include "Shark Bait," "The Waterboy" and "Big Daddy."
Schneider began writing jokes as a teenager, appearing at local venues. After opening for comedians such as Jay Leno and Jerry Seinfeld, he made his major network television debut in 1987 on "The David Letterman Show." In 1990 Lorne Michaels saw Schneider's appearance on HBO's "13th Annual Young Comedians Special" and hired him to be a regular on "Saturday Night Live." During his four seasons at "SNL," Schneider was nominated for three Emmys and a Peabody Award.
Schneider is an active supporter of several charities. He founded "The Rob Schneider Music Foundation," which helps provide music education for middle school and high school students. Schneider was born and raised in San Francisco. He lives in the Los Angeles area.
---

David Spade:
Nominated in 1999 for an Emmy Award for his memorable role as Dennis Finch, the wise-cracking, power-hungry assistant on "Just Shoot Me," David Spade became a household favorite during his five-year stint as a cast member of NBC's "Saturday Night Live."  He was also nominated for a Golden Globe in 2000 and an American Comedy Award in 1999 for his work on NBC's "Just Shoot Me". Spade continues to be a box office draw and continuous to do stand-up tours nation wide. 
Fans can see Spade on his latest national standup tour, "Netflix Presents: Sandy Wexler's Here Comes the Funny", alongside Adam Sandler, Nick Swarsdon and Rob Schneider. Most recently, Spade starred in the Netflix original comedy THE DO-OVER, opposite Adam Sandler and Paula Patton which is one of Netflix's biggest film releases. Spade also appeared as a guest star in the Cameron Crowe created, J.J. Abrams produced "Roadies" for Showtime. He will next be seen in WARNING SHOT, directed by Dustin Fairbanks and screenplay written by Breanne Mattson. Spade is set to star in the dramatic role alongside Bruce Dern, James Earl Jones, Tammy Blanchard, and Guillermo Diaz.
In 2015, Spade reprised his role as the hilarious and endearing "white trash" misfit, Joe Dirt, in the sequel to the cult classic, JOE DIRT 2: BEAUTIFUL LOSER, directed by Fred Wolf, with whom he also co-wrote the script. The film has been streamed more than 2 million times, making it Crackle's most watched original movie to date. Later that same year, Spade also released his memoir, Almost Interesting, through Dey Street Books, which went on to become a New York Times Bestseller. 
Spade was also seen in Sony Pictures' GROWN UPS 2 alongside Adam Sandler, Chris Rock, and Kevin James. The film was a follow up to the 2010 hit comedy about a group of childhood friends who reunite years later. Both movies were a financial success, each earning over $200 million dollars worldwide at the box office. In 2012, Spade was heard as the voice of the 'Griffin invisible man' in the animated feature, HOTEL TRANSYLVANIA alongside Adam Sandler, Selena Gomez, Steve Buscemi, Kevin James, and Andy Samberg, among others. He reprised his role in the film's sequel, HOTEL TRANSYLVANIA 2, which was released on September 25, 2015. 
Other popular film credits include Sony Pictures' BENCHWARMERS and Paramount Pictures' DICKIE ROBERTS: FORMER CHILD STAR, the latter which he co-wrote with Fred Wolf. Both opened #1 at the box official and enjoyed both critical and commercial success. Spade also co-starred with SNL alumnus Chris Farley in the films TOMMY BOY and BLACKSHEEP, the former for which the pair won a 1996 MTV Movie Award for 'Best On-Screen Duo'. He has also appeared in REALITY BITES, LIGHT SLEEPER, CONEHEADS, and LOST & FOUND, that latter for which he also co-wrote the screenplay.  
On the small screen, Spade starred in the CBS comedy "Rules of Engagement". The show was produced by Sony's Happy Madison Productions and centered around three men in different stages of their relationships: married, engaged, and single. The series enjoyed excellent ratings and critical success throughout all of its seven seasons. He also appeared in "The Showbiz Show" for Comedy Central, which aired from 2005-2007. Spade created, executive produced, hosted and wrote the show along with pal and former SNL writer Hugh Fink. He also had a memorable guest starring role on the critically acclaimed "The Larry Sanders Show" and appeared in HBO's "13th Annual Young Comedians Special."  He has also had several well-received standup comedy specials, most recently being the Comedy Central special "David Spade: My Fake Problems", which was filmed at Hollywood's Fonda Theater and aired on May 4, 2014. 
Born in Birmingham, Michigan, and raised in Scottsdale, Arizona, Spade began his career by performing stand-up comedy in clubs, theaters and colleges across the country.  He made his television debut on SNL and was soon after named the "Hot Stand-Up Comedian of the Year" by Rolling Stone magazine.  As a writer and a performer on SNL for five years, he is best known for his memorable characters including the sarcastic "Hollywood Minute" reporter on "Weekend Update" and catch phrases like  "And you are…?" and "Buh-Bye!".