Roots & Boots 90s Electric Throwdown starring Sammy Kershaw, Aaron Tippin, and Collin Raye
Thursday, June 28 at 8:00 PM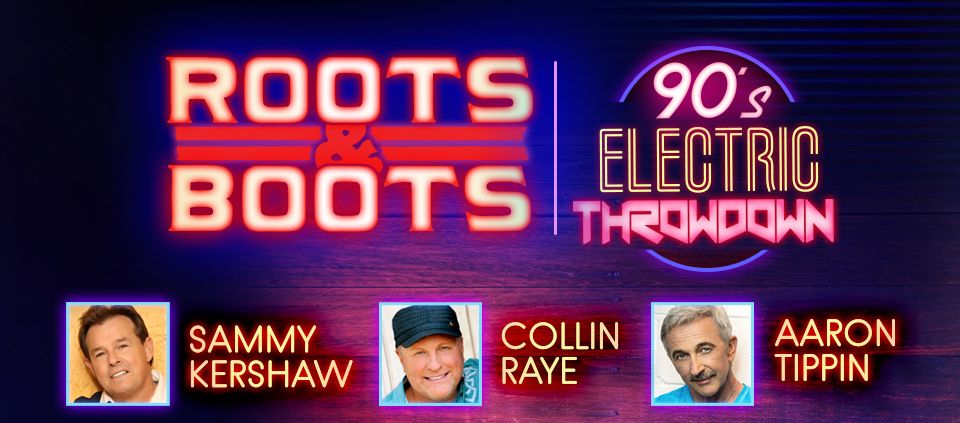 Roots & Boots 90s Electric Throwdown starring Sammy Kershaw, Aaron Tippin, and Collin Raye. Tickets got on-sale Saturday, April 14 at 10am. 
3 voices that defined 90's country – touring together on stage with one full band electric. Combined over 40 Top 10 radio smash hits and 25 million albums sold!
Sammy Kershaw
Sammy Kershaw rode in on country's new traditionalist wave in the early '90s, finding success with ballads and a blend of updated honky tonk, Southern rock with a hint of Cajun flavor, and crossover-minded country-pop. Songs include "She Don't Know She's Beautiful," "Cadillac Style," "Anywhere But Here," "Haunted Heart," "Queen of My Double-Wide Trailer," "I Can't Reach Her Anymore," "Third Rate Romance," "Meant To Be," and "Love of My Life."
Aaron Tippin
Aaron Tippin's first single, "You've Got To Stand For Something," kicked off his career in a big way! He was asked to join the Bob Hope Show in the early '90's to go over and entertain the troops in Iraq. After that, the hits continued to pile up – "There Ain't Nothin' Wrong With The Radio," "That's As Close as I'll Get to Loving You," "Kiss This," "For You I Will," "I Got It Honest," "My Blue Angel," and "Workin' Man's PhD," among them.
Collin Raye
Collin Raye is nothing if not passionate. His soulful delivery has set country standards in such searing ballads as "Love, Me," "In This Life," "Not That Different," "One Boy, One Girl" and "If I Were You". Always an energizing showman, he has also blazed through such vivid rockers as "My Kind of Girl," "Little Rock," "That's My Story," "Man of My Word," "I Want You Bad (and That Ain't Good)," "Somebody Else's Moon," "Little Red Rodeo," "I Can Still Feel You" and "I Want You Bad."