Tejano Valentine's Day Dance ft. AJ Castillo, Dezigual and Louie Marinez y Myzterio
Saturday, February 16 at 8:00 PM
Casino Del Sol Event Center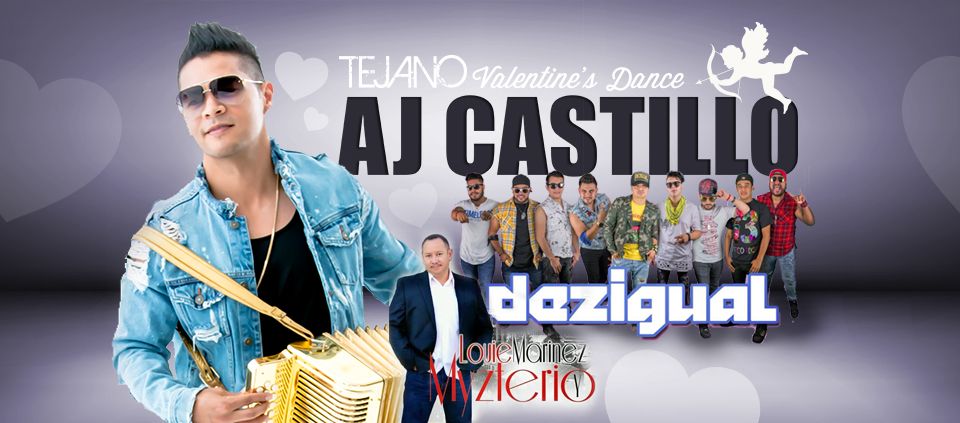 Come dance the night away at the Tejano Valentine's Day Dance featuring AJ Castillo, Dezigual and Louie Marinez y Myzterio at Casino Del Sol's Event Center.

Tickets on-sale now, 21+ Event
About AJ Castillo 
AJ Castillo is a Latin artist known for his unique accordion sound and style, his energetic LIVE performances, and his extraordinary custom accordions. Having lent his musical talent to many artists through countless studio recordings and performances, in late 2008 he felt it was time to step to the front of the stage and introduced a fresh new sound that expands the boundaries of accordion music. From the release of his debut CD in 2009 to his CD in 2014 (Sin Límites) that debuted on Billboard at #15 on the Latin Pop Albums chart (07.26.2014) to his most recent release in 2017, AJ is becoming a well-known accordionist, singer, song writer, performer, and producer.
AJ is a native of Austin, TX, and is a graduate of The University of Texas at San Antonio. Born to a musical family, he was introduced to the accordion by his grandfather. He started playing the accordion at the age of 10 and began his professional music career at 13. Today, this young talented musician is reaching Latin music fans all over the world and is being recognized by professionals in the Latin music industry (as evidenced by his HOHNER, Inc. USA endorsement and his collaboration on the 2017 Latin Grammy Award winning Best Regional Song "Siempre Es Así").
With the release of each consecutive project, AJ has taken his music to the next level and continues to amaze people with his ability to infuse different styles of music to create his new unique sound. Joining him on this journey is his younger brother and promising vocalist, Sergio Castillo. Sergio brings another level of versatility to the group with his strong vocal ability. Together, they are committed to producing high quality music that can cross boundaries and appeal to fans in all genres of Latin music.

About Louie Marinez
A onetime Disney World Epcot Center showcase artist/vocalist/trumpet player, with world-renowned Mariachi Cobre, is returning to the music groove after a few decades away. Louie Marinez forgoes a fresh, multi-faceted style and a wealth of Tejano possibilities with this vocal experience and horn knowledge. On his dynamic genre filled debut SIN FRONTERAS, he uses his incredible affinity for Tejano music to create feet shuffling grooves, big band jazzy sparks, and a an earthy harmonic get down duo with the ever so youthful Ruben Ramos in "Todas Las Deduas Se Pagan". Rick Fuentes, Grammy- award winner, accordion master/arranger/producer, compliments this release with a creative fuel sure to burn pure and clean with Tejano dance hall patrons from Tucson to Texas.
About Dezigual
Con una fresca propuesta es como llega Dezigual al mundo de la música para llegar a los corazones de cientos de jovencitas que se identificarán plenamente con la letra de sus canciones. Doce jóvenes con gran talento, experiencia son los que conforman el grupo cuyo ritmo será la cumbia armonizada con el trombón, trompeta y saxofón para dar una combinación de sonidos diferentes creando así su propio estilo. Entre los integrantes de esta agrupación se encuentran Ricky López como vocalista y Wall-E, baterista, ambos anteriormente formaban parte de La Fievre Looka, que ahora inician en el 2013 como Dezigual.
George, es quien está a cargo de los teclados, guitarra eléctrica, además de cantar. Torito, acordeonista del grupo también trae por herencia el gusto por la música, al ser hijo de Héctor Treviño, líder y vocalista de El Golpe. Otro integrante es Vic Zneil, quien toca el teclado y controlador dentro de la agrupación. El encargado de tocar el bajosexto es Jonathan, quien gustoso aceptó la invitación para pertenecer a Dezigual. Desde Venezuela llega Rafa como percusionista, desarrolló su carrera en diferentes Sonoras, por lo que recibió la propuesta para unirse al grupo. El trombón, instrumento fundamental para esta agrupación que le dará un toque especial está a cargo de Chuy, que trabajo en la música colombiana durante un tiempo al formar parte del grupo de Paco Silva y su Tropa Co. Y con Los Cumbiamberos RS. Tino es originario de Tampico, Tamaulipas donde trabajaba como músico en distintos lugares, al llegar a Monterrey hace una audición y se convierte en el bajista de esta agrupación. Alan, músico regiomontano que ha trabajado en otro grupos ahora se integra a Dezigual como trompetista. En los timbales se encuentra Lalito, que a sus 15 años ya cuenta con una basta experiencia dentro de la música. En el saxofón está Alexis, anteriormente colaboró en otras agrupaciones que lo llevaron a ser elegido como integrante de Dezigual. El vestuario y la imagen de cada uno de sus integrantes es parte fundamental en Dezigual, por lo que cuentan con un su propio diseñador de modas. 
Su primer material discográfico titulado "Primer Acto" será lanzado al mercado bajo el sello de Serca Music, y Universal Music Latin el cual contiene doce temas, incluidos dos covers en los que tienen como invitados especiales a Aniceto Molina, Erick Escobar, Ramón Marín (Magno). Las Hijas de Don Simón" es el primer corte promocional que se desprende de su álbum debut, el cual fue grabado en los Estudios JGM, y producido por Orlando Cano