Vince Neil & Queensrÿche
Sunday, April 8 at 8:00 PM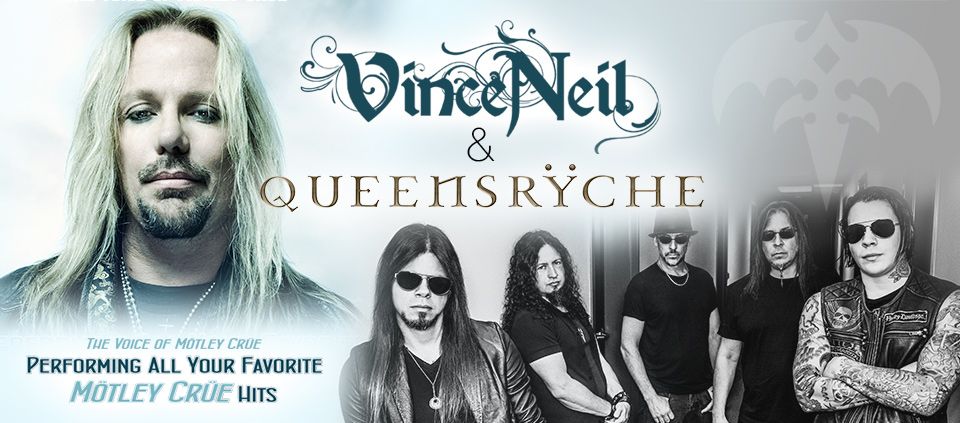 Vince Neil & Queensrÿche Live at AVA Amphitheater! Doors open at 7pm, show starts at 8pm. 
Tickets on Sale Now! 

Vince Neil:
The Legacy Continues…
Vince Neil, the legendary front man of Mötley Crüe, is an international superstar, accomplished businessman and heartfelt philanthropist. His unmistakable voice leads some of the greatest rock songs of a generation including "Wild Side", "Shout at the Devil," "Home Sweet Home," "Girls, Girls, Girls," "Dr. Feelgood," "Kickstart My Heart," "Same Ol' Situation," and many others.
Raised on the tough streets of Compton, California, Vince Neil fell in love with music as a child, developing a broad vocabulary that ranged from classic Motown to Hard Rock. As a teenager, he began performing with local bands and soon discovered both a passion for the stage and a natural talent as a singer and performer. He fronted the popular band Rock Candy before reuniting with high school buddy Tommy Lee in 1981, establishing
his spot in rock and roll history with the formation of Mötley Crüe.
Mötley Crüe's epic 34‐year run included countless multi‐platinum releases, more than 22 hit singles, 100 million albums sold and dozens of global tours with sold out arenas, inclusive of some of the largest venues in the world. The band completed "The Final Tour" on New Year's Eve 2015, closing the book that told the story of their iconic career. Despite the Mötley Crüe departure from the rock world, however, Vince Neil shows no
sign of slow down, continuing to carry on with the unending "The Legacy Continues Tour".
Neil continues to perform all the classic Mötley Crüe hits with select cuts from his three solo albums. Additionally, this badass performer is working on new music, and has hinted about performing some of it during this tour: "I'll say that we are recording some stuff for a new record this year," he said in a Loudwire interview in January. "You often hear some surprises at our shows. I don't want to give away some of those surprises… The music is exciting. It's good, fun, nasty, raw energy and great songs."
Presently, Neil remains primarily occupied answering the call to his immense following with shows internationally in conjunction with the culmination of his fourth solo album. Besides being an International Superstar, Neil is an accomplished businessman and heartfelt philanthropist. He manages to own several restaurants and his own brand of both tequila and vodka. Certainly not least, his efforts have rallied millions of dollars for a Non‐profit organization, The Skylar Neil Memorial Foundation, in tribute to the unfortunate loss of his daughter to cancer in 1995. In January of 2017 Vince Neil back in the TV spotlight once again, as a contestant on NBC's The Celebrity Apprentice, featuring new host Arnold Schwarzenegger.
Queensrÿche: 
The band's name is uttered in the same breath as many of the groups they looked to as influences and others who arose as peers. Queensrÿche built a dedicated legion of fans traveling the globe on tour with fellow rock giants like Iron Maiden, Guns N' Roses, Metallica, Judas Priest, and Def Leppard. In recent years, they've consistently delivered high-octane live shows combining the hungry fire of a new band with the tempered experience of master showmen. Even with eleven gold and platinum plaques and several Top 10 hard rock anthems woven into the very fiber of the genre, Queensrÿche won't relent. In fact, they are in the throes of a jaw-dropping creative resurgence.
Queensrÿche first burst onto the music scene in 1982 with the release of their self-titled 4 song EP "Queensrÿche". They very quickly gained international recognition and performed to sold out audiences around the world. With the follow up first full length album "The Warning" in 1984, and the ground breaking 1986 release of "Rage For Order", Queensrÿche continued to prove their worldwide dominance as one of the most respected and creative bands of the 80's. In 1988 the band turned out yet another monumental album "Operation: Mindcrime", which would go on to become one of the TOP 10 best selling concepts records of all time, and set the stage for continued sold out performances around the world. With the release of the critically acclaimed and commercially successful "Empire" in 1991, the band earned multiple Grammy Award nominations and won the MTV "viewers choice" award for the #1 chart topping hit "Silent Lucidity". During the next ten years, the band continued to release albums and tour the world to sold out audiences. Queensrÿche has sold over 30 million albums worldwide and have continued to break new ground and push their creative process.