PY Steakhouse Chef de Cuisine Roderick LeDesma Wins Knife Fight 2018
Thursday, October 4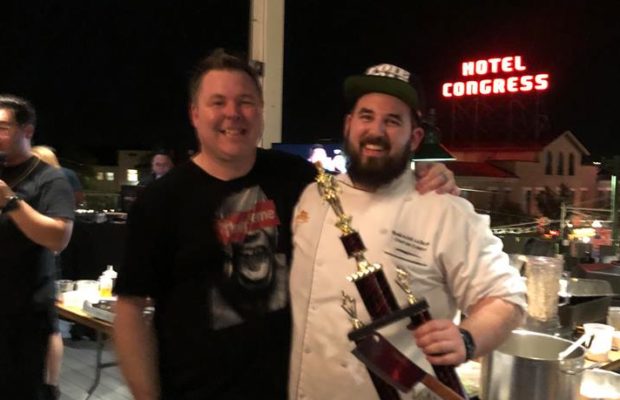 Congratulations to Chef Le Desma!
Charro Steak executive chef, culinary director for the Flores family of restaurants, and 2017 Knife Fight champion Gary Hickey battled his way back into the grand finals against PY Steakhouse chef de cuisine Roderick LeDesma.
With dry-aged beef, instant ramen noodles, and field ration ready-to-eat meals as the secret ingredients, LeDesma ended up as the new grand champion.
"So excited about it," LeDesma said. "It's amazing, especially being able to do it surrounded by so much love and support. I said from the beginning I was coming back with a vengeance this time. This whole competition has been a blast and I can't wait to see what next year brings."
Charro Steak bartender Alfredo Aguilar won the cocktail battle against Ryne Hoffman from the AC Hotel. While the two initially had a tie with their scores, Aguilar won the tiebreaker battle.
View full article and video on tucsonfoodie.com >> 

About Chef Le Desma
Chef Le Desma started working in restaurants at age 16. However, his love for cooking developed early on when his mother taught him to cook at a young age. Growing up on old cooking shows and cookbooks, he found himself constantly in the kitchen. He attended the University of Arizona, thinking going to college was what he was "supposed to do", but never felt like it was right for him. He left to attend the Art institute of Tucson, during which time he started working at Primo at the JW Marriott Starr Pass. Quickly moving up the ranks, he was asked by James Beard award-winning Chef Melissa Kelly, to join the team at Primo in Rockland, Maine. After his experience there, he returned to Tucson, taking over as Chef de Cuisine back at the Primo, JW Marriott. After three years at the helm of the kitchen there, he joined the team at Casino Del Sol as Chef de Cuisine of PY Steakhouse.